Book Order Page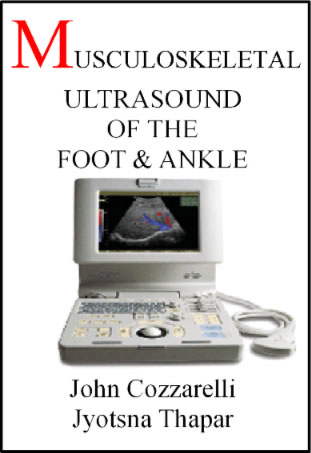 Editorial Review
"In this publication the authors draw on their broad experience to guide the practitioner to accurate positioning and interpretation of sonographic images. In addition they point out common pitfalls and sonographic artifacts to avoid. I congratulate Dr. Cozzarelli and Dr. Thapar on the completion of a 10 year arduous task and recommend this resulting text to any podiatric practitioner wishing to take his or her diagnostic skills to the next level."
Product Details
Hardcover: 264 Pages - Bound full color heavy glossy stock
Published: First edition (January 20, 2009)
Language: English
Product Dimensions: 8.5x11x1 Inch
Shipping Weight: 55 Ounces
Audience: Both Novice and Seasoned practitioner
Please contact the office to purchase a copy.