Dr. Cozzarelli's Advanced Training
Dr. Cozzarelli has received advanced training throughout the years in the following areas: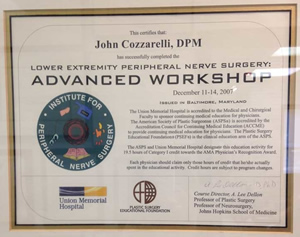 Heel Spur Surgery - Endoscopic Plantar Fasciotomy - Hershey, PA 1995
Ankle Arthroscopy - New York Podiatric Medical Association 1995
Endoscopic Decompression of Intermetatarsal Neuroma - New York Podiatric Medical Association 1997
Cold Aura Laser - Medical Alliance - New Jersey 1999
Flash Lamp Pulsed Dye Laser - Medical Alliance - New Jersey 1999
Extra Corporal Shock Wave Treatment - Excellence Shock Wave - 2000
Diagnostic Ultrasound of the Foot and Ankle - Goldfarb Foundation - 2001
Anodyne Therapy for Neuropathy - June 2002
Magnetic Resonance Imaging of the Foot and Ankle Hydracomp - 2004
Gallium Aluminum Arsenide Laser Microlight - 2004
Nerve Conduction Velocity Testing & Interpretation - Cadwell Sierra - Roger Ball June 2005
Micro Vas testing and treatment for neuropathy and ulcerations - December 2005
Aesthetic conference - October 2005
Dr. Suzanne Levine, Dr. Everet Lautin
Aesthetic Workshop - January 28, 2006
Intense Photo Light, Laser hair removal, Sculptra Injection
Therapy, Scelrotherapy, Botox for Hyperdhydrosis
Micro-dermabrasion
Dellon Peipheral Nerve Institute - Johns Hopkins - December 11-14, 2007
Columbia Presbyterian Medical Center Department of Orthopedics - Microsurgery Course -February 1, 2008 - Dr. Yelena Akelina
Patholase PinPointe Foot Laser - Sacramento, California - September 5, 2008 - Dr. Michael Uro
Dr. Cozzarelli is certified in Nerve Decompression Surgery which treats the symptoms of Diabetic Neuropathy. He was trained under the supervision of Dr. Lee A. Dellon, an accomplished Plastic Surgeon and a pioneer of the procedure. There are approximately 400 surgeons worldwide that ae certified to perform this surgical procedure.
Dr. Cozzarelli has received training in the Patholase PinPointe FootLaser for fungal infections of the nail. Dr. Cozzarelli was selected as one of the top doctors by New Jersey Monthly Magazine in 2008 through 2014.
Fellow of the American College of Foot and Ankle Surgeons since 1991
Member of the American Podiatric Medical Association
Member of the New Jersey Podiatric Medical Association
Past medical director for the state of New Jersey for the Podiatric Independent Physicians Affiliation
Quality Assurance Director for Pedal Management
Sat on a peer review committee for Prudential Health Insurance Company
Currently on staff at HackensackUMC Mountainside Hospital in Montclair, New Jersey; Clara Maass Hospital in Belleville, New Jersey; and Essex Surgical Arts Surgery Center in Belleville, New Jersey
CEO of Podiatry Associates of Belleville